Yemen suffering from counter-revolution : Karman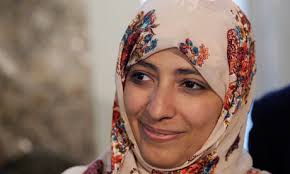 "Yemen is suffering from a counter-revolution and a coup led by ousted President Ali Abdullah Saleh and carried out by the Shia Houthi armed militias with full Iranian support," Yemeni activist and Nobel Peace Prize winner Tawakkol Karman said.
She stressing that "the Yemeni people refuse Iranian and Houthi dictates."
During an exclusive interview with the Anadolu Agency, Karman said: "This coup d'etat aims to stall Yemenis' dreams and sabotage the 2011 revolution," adding that "the Yemeni people and powers refuse Abdul-Malik [Al-Houthi's] control of Yemen."
She announced her full support for Yemeni President Abd Rabbuh Mansour Hadi although he made mistakes in the transition period, including being slow to suppress the armed uprising and tackling corruption, yet, she said that a new constitution should be prepared and fresh elections should be held under Hadi's watch.
Karman added that President Hadi is a prisoner of tribalism and sectarianism from which Yemen has suffered from a long time.