Yunus wins Centennial Fund award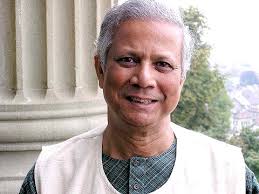 Bangladeshi Nobel laureate Muhammad Yunus was picked up for the 2nd Global Entrepreneurship Award (GEA-2014) under the umbrella of the Centennial Fund (CF) chaired by Prince Abdulaziz bin Abdullah, deputy minister of foreign affairs.
This was announced by the secretary-general of the award, Abdulaziz Al-Mutairi, who said the GEA-Award committee's decision was based on Yunus' distinguished efforts at highlighting the culture of entrepreneurship.
Al-Mutairi did not disclose the names of the other winners. Last year there were 18 winners from four countries — Saudi Arabia, Egypt, Jordan and Yemen.
As many as 600 candidates from 42 countries had submitted their entries in six different categories this year for the best action plan, the best feasible project idea, the best pioneering project, the best mentor and guide, the best existing project and the best leading figure. Yunus won the award for the best leading figure.
According to Al-Mutairi, the award under the name of Prince Abdulaziz is the first on a global level to honor outstanding entrepreneurs and also encourage pilot projects. It aims to recognize distinguished works in the Kingdom and internationally.
Al-Mutairi, who is also CF's head, said the awards presentation ceremony, to be held on Nov. 3 here, will be attended by a large number of economists from Gulf states and across the world. Prince Abdulaziz will give away awards totaling SR1 million for the distinguished works.
He said the prize distribution ceremony will coincide with the launch of the first World Conference on Entrepreneurship, and the start of the 3rd World Global Week's events for Entrepreneurship Guidance in its third season.
"The launch of the award is a continuation of the efforts of the Kingdom's leadership that reflects Prince Abdulaziz's efforts to help young people realize their ambitions and shape their own future." Al-Mutairi underlined the role played by the international jury in all branches of the award and the integration of work with other committees that operate according to a plan of the CF's awards committee. He added that the winning projects were evaluated by members of the jury consisting of experts from within the Kingdom and abroad.