Zaman Again Run In London Marathon 2016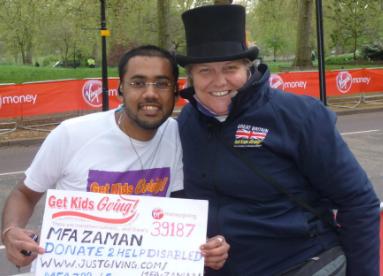 Zaman is running in London Marathon 2016 to help the disabled kids on behalf of Get Kids Going. He has done London Marathon 2015. So far Zaman have done 1 full marathon & 9 half marathon. He ran 145 miles with in a year to help the disabled kids who are involved with sports such as Para-Olympic, Common Wealth Game etc.
Zaman said, he is so pleased because his fundraising through run; could change a disabled kid's life. It is our moral duty to help them. We are grateful because we have good health with hands, legs, eyes etc. But those kids have some shortage but they are really talented; just only they need our generous support. But I am excited and lucky because few famous people such as Cricket legend Sir Viv Richards OBE, Ex West Indian captain Brian Lara, Manchester United Footballer Dwight Yorke and Famous British Comedian Russell Brand has promoted my charity run. They were really amazed by my charity work to help the disabled kids.
And i am giving special thanks who promoted my charity run and donors who helped me and donated generously. Without their humble financial support; it was really impossible but they made it possible.
And end of the day my message to everyone; please carry on your support on me to London Marathon 2016.
You could make a donation in few ways. Please visit my donation page — www.justgiving.com/mfa-zaman Or you can donate by Text MFAZ99 £5 to 70070
You tube link – http://youtu.be/POWMWp2mo1U
Please come forward to change a life with love and donation.