Zimbabwe's Robert Mugabe resigns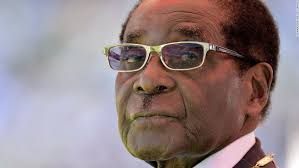 Zimbabwean President Robert Mugabe, who has ruled his country for 37 years, resigned Tuesday following pressure from the military, protesters and a looming impeachment by parliament.
Parliament Speaker Jacob Mudenda announced Tuesday that Mugabe had submitted his resignation letter to parliament.
In the middle of the impeachment process, a notice of resignation was handed to Mudenda who immediately stopped the impeachment procedure.
"I Robert G. Mugabe hereby formally tender my resignation as president of Zimbabwe with immediate effect," read the speaker.
South African Television Enca showed live images of Zimbabweans celebrating on the streets of the capital Harare.
Last week, the Zimbabwean military took over the reins of the country and placed Mugabe, his wife and scores of his close ministers under house arrest.