4% women candidates running in the upcoming election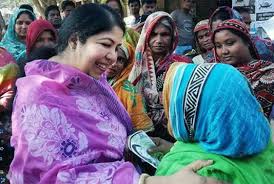 The December 30 national polls have 68 women as candidates from different parties and it only makes around 4 percent of the total candidates. Women's rights activists see the numbers as dissatisfactory.
There had been calls to take steps so that the 50 parliamentary seats reserved for women be contested in direct election rather than through party votes but the demands of organizations were not met.
Back in 2008, the Election Commission set a new rule which required all registered political parties to ensure 33 percent female participation in committees but no party has come close to the target in the last decade.
Back in 1971, there were only two female candidates in the first parliamentary election. The number of female candidates in the 9th and 10th parliamentary elections were 64 and 30 respectively.
Despite the head of the state being women for over two decades, the number of female runners in elections has not increased substantially.
At first, 118 women had received nominations for the 11th parliamentary polls, but vetting had brought the number down to 68.
A total of 1,848 candidates are vying for the 300 parliamentary seats in the upcoming election, which includes 99 independent candidates and 1,749 party candidates. Female candidates make up only 3.68 percent of the total.