Bangladesh election will take place as scheduled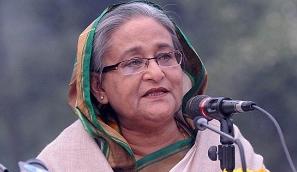 Bangladeshi Prime Minister Sheikh Hasina said on Monday that her government will hold a general election by the end of this year, as scheduled.
"The election will take place on time and the people will exercise their voting rights," Hasina said.
The prime minister was speaking at a press conference on her return home from an official visit to Italy and the Vatican.
Hasina addressed threats from the Bangladesh National Party (BNP) that it will boycott the election unless its chairperson, Begum Khaleda Zia, is released from prison.
Zia — who was herself prime minister of Bangladesh from 1991 to 1996 and from 2001 to 2006 — was sentenced to five years in jail for embezzlement on Feb. 8.
Hasina was keen to stress that the government had nothing to do with Zia's sentence.
"The court has awarded imprisonment to Zia," she said. "Our government did not dictate the verdict. The case was not even filed by the ruling party. It was filed by the Anti-Corruption Commission during the previous caretaker government."
Hasina also said that the BNP was free to boycott the upcoming election, as it did the last one.
"Elections are a democratic right of the people," she said. "If (the BNP doesn't) participate in the election, we have nothing to do (with that decision). Here, we have a multi-party democracy."
Zia's adviser, the former MP Joynal Abedin Faruk, however, believes that such a scenario would be an embarrassment to Hasina and her government both nationally and internationally.
"Our chairperson is in prison now. Right at this moment our target is to set her free through a legal process," he said, adding: "The BNP will not take part in any election without Begum Zia."
Professor Ataur Rahman, a political analyst and president of the Bangladesh Political Science Association, believes Hasina and her party will do their utmost to ensure the BNP take part in the election.
"I definitely believe there will be a way out," he told Arab News. "I believe there will be a positive result. The government will want to bring the BNP into the election process, but after weakening (its) political strength."
He added that the BNP would want to "keep its existence as a political party," and would not "waste this chance."
BNP lawyers said on Monday that they would file a petition for bail for Zia on Tuesday, and they expected it to be granted soon.