Biman Bangladesh one of the worst to fly with: SKYTRAX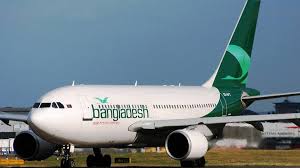 Bangladesh Biman Airline has been ranked one of the worst airlines in the world, according to SKYTRAX reports.
SKYTRAX published the report on Wednesday.
SKYTRAX, a web-based airline and airport rating and review platform, released the rankings through stars – with the "worst" going from one star to the best being "five stars."
Bangladesh Biman Airlines, along with 21 other airlines, was rated two stars, thus becoming one of the second worst airlines in the world.
"A 2-Star Airline rating signifies an inconsistent or lower Quality of Product and/or front-line Staff Service for the Onboard and home-base Airport environments," the SKYTRAX website read.
Iran Air, Syrian Air and Air Italy are among the other airlines with the two star ratings.
ANA All Nippon Airways of Japan, Asiana Airways of South Korea, and Singapore Airlines were among the few to receive a five-star rating. North Korea's Koryo Air was the only one to be ranked worst with one star.
A globally recognized worldwide airline rating system which was introduced in 1999, SKYTRAX World Airline Star Rating classifies airlines by the quality of their front-line product and staff service standards. The Star Ratings are recognized as a global Benchmark of airline standards.
Biman Bangladesh, which received a customer rating of 5/10, was reviewed on the website to have a "totally disorganized" check-in system.
Biman operates flights in 22 international destinations and are facing loss in most destinations. A loss of Tk594 crore in 2011-12 fiscal year and Tk191 crore in 2012-13 financial year was recorded.