Court orders first class division for Khaleda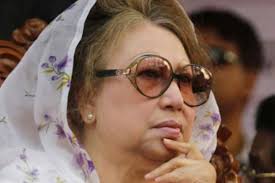 A Dhaka court has directed jail authorities to provide BNP chief Khaleda Zia with the facilities of first class division as per as provision of jail code.
The court gave the order on Sunday morning after BNP's continuous push to ensure division for their party chief.
At around 11:30am on Sunday, Judge Md Akhtaruzzaman of the special court-5 passed the directed the jail authorities to provide the facilities of first class division to BNP Chairperson Khaleda Zia who was sentenced to five years imprisonment after being convicted in the Zia Orphanage Trust graft case by the same court.
Earlier in the morning, Advocate Sanaullah Miah filed a petition to the court seeking its directives in this regard.
On Thursday, Khaleda, a 73-year-old former prime minister, was taken to the old central jail after a special court sentenced her to five years' imprisonment in the Zia Orphanage Trust graft case.
Five other accused in the case, including her son and BNP senior vice-chairman Tarique Rahman, were sentenced to 10 years' imprisonment each.
Accusing the government of keeping its chairperson Khaleda Zia in solitary confinement at the abandoned old Dhaka central jail, BNP on Saturday demanded that she be given division immediately.
Or else, BNP secretary general Mirza Fakhrul Islam Alamgir said, the government will be held responsible if anything bad happens to Khaleda.
BNP leader Barrister Moudud Ahmed claimed that the party Chairperson Khaleda Zia had been kept in an 'old prison cell' in Old Central Jail in Dhaka.
"She is passing her days in jail just like any ordinary prisoner. She has been kept in an old room," Moudud said after meeting Khaleda in jail on Saturday.
He further alleged that Khaleda Zia has not been allowed to keep her house help, who was also taken to the prison along with her.
As per the Jail Code, she is entitled to get the division as a former prime minister, a former MP and as an opposition party chief but she is being deprived of such facilities, Moudud alleged.
Earlier, five pro-BNP lawyers, including Moudud, entered the jail on Nazimuddin Road in Dhaka to meet Khaleda around 4:30pm.
Moudud said they talked to Khaleda Zia about her bail proceedings and the cases filed against her.
"We will try to get a copy of the verdict on Sunday and then, we will move forward to file the bail petition and appeal to the higher court," he added.