Hasina ranked 2nd best Prime Minister in the world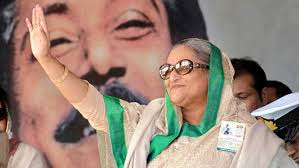 The Cabinet on Monday congratulated Prime Minister Sheikh Hasina on her being ranked the 2nd best Prime Minister in the world and for her dynamic, prudent and strong leadership that led Bangladesh's graduation to a developing country from the LDC Group.
Cabinet Secretary Mohammad Shafiul Alam said this while briefing reporters after the cabinet meeting held at the Prime Minister's Office with Prime Minister Sheikh Hasina in the chair.
He said the Cabinet observed that Bangladesh's graduation has been possible only for the dynamic, prudent and bold leadership of Prime Minister Sheikh Hasina.
Shafiul Alam said the Cabinet greeted the Prime Minister for brightening the country's image in the international arena through its graduation to a developing one.
He said the United Nations Committee for Development Policy on March 15 last declared Bangladesh a developing country as it attainted all the three criteria considered for the graduation from the group of Least Developed Countries.
Shafiul Alam said the Cabinet also felicitated the Prime Minister as she was ranked the 2nd best Prime Minister of the world by the 'Statistic International,' a Singapore-based renowned research firm.
The research firm in its survey report said Sheikh Hasina was selected as the 2nd best Prime Minister for her competent leadership, statesmanship, humanity, decision-making and their implementation at the international level as well as being in limelight in international media throughout 2017, the cabinet secretary went on.
The research firm said the Prime Minister not only gave shelter to Rohingyas but also carried out a diplomatic fight to establish their rights in their homeland and successfully engaged the United Nations and important countries of the world in this matter, he added.