Rajon murder prime suspect Kamrul sent to jail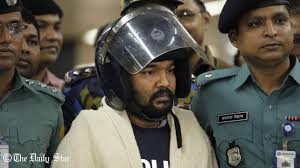 Kamrul Islam, the prime suspect in the killing of teenage boy Rajon has been sent to jail by a Sylhet court.
He was taken to Sylhet from Dhaka soon after his arrival and was produced before the court on Friday morning.
Kamrul was repatriated from Saudi Arabia on Thursday. He fled to KSA after the killing of Rajon on July 8.
On August 6, 13 people were charged with the murder and on September 22, the court framed charges against them. So far 29 witnesses' testimonies have been recorded.
A video going viral on social media platforms showed Rajan being tied to a pole and beaten to death. This sparked outrage throughout the country.  The video showed Kamrul as the main torturer.
After Kamrul fled to KSA, expatriate Bangladeshis there caught him and the embassy handed him over to the local police.
Bangladesh had issued a red corner notice against Kamrul with Interpol's help.
Police have so far arrested 11 people in connection with the case.