Sydney : For a postcard-perfect holiday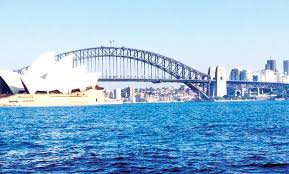 Leila Nasr: Picture yourself lying on a pristine, white-sand beach along the outskirts of a laid-back, cosmopolitan and welcoming city, soaking up the late afternoon sun. You're wondering which seaside cafe you should stop in to grab your fresh-pressed juice on the way back to your room-with-a-view, where you'll have a little snooze to cap off a perfect afternoon. You know it's going to be a big night of food, friends, more food, exploring, amazing city views and maybe even some dancing, so you'd better rest while you can before the city consumes you for the evening.
If Sydney doesn't already feature on your bucket list, there's no shame in rethinking your priorities. Just don't miss out on seeing this vibrant world city!
Sydney icons
Located on the coast in the southeast corner of Australia, Sydney packs a punch for every tourist. With so much to do and see in this lively city, you'll need to set aside at least a week to really experience its true character. Like Melbourne, Sydney is indeed another cultural capital of this vast country; similar in character, yet perhaps with slightly better weather, and better beaches! Here in Sydney, the casual and the elegant collide effortlessly to produce a city known for its incredible array of beautiful eateries, high-end shopping strips, and natural and architectural phenomena.
Home to approximately 4.5 million people, Sydney is known worldwide for its iconic Sydney Harbor Bridge and the Sydney Opera House. Towering 134 meters above the water level at the highest point of the arch, the bridge was officially opened in 1932, and took six years to construct. You can enter the South Eastern pylon and get a great view of Sydney from the bridge for a modest entry fee. But beware: with over 200 steps to climb on this walking trip, you'll want to be sure of your fitness level before attempting this small feat! If your inner-daredevil is feeling particularly pronounced you might even want to climb up the exterior of the bridge. You'll be suited up, strapped in, and trained on how to safely ascend the bridge with your professional guide and group of about ten to twelve other climbers. Whilst this isn't cheap, the climb is said to be well worth the investment, with the likes of Princess Mary of Denmark, Matt Damon and Kylie Minogue having all completed the challenge. Make sure you book early for this particular attraction, as places on the tours tend to fill up weeks or months in advance, depending on the package you choose.
Another must-see in Sydney city is the Opera House. Thankfully, it's pretty hard to miss it due to its impressive size and eye-catching design. Opened in 1973 by Queen Elizabeth II, the architectural masterpiece comprises multiple performance venues where you can catch the latest shows on offer, including concerts, theater performances, and more. If you're not one for shows, the surrounding area has a lot to offer, including a variety of upper-class restaurants and cafes with awesome nighttime harbor views to entice your senses.
To really gain a good understanding of the sheer size and diversity of the Sydney harbor, slap on the sunscreen and try taking a ferry tour for an hour or so along the calm waters. While there are many tour companies that offer this service, the best tour on offer in this respect is undoubtedly the most simple and inexpensive; rather than take a fancy boat trip, opt instead for the Harbor City Commuter Ferry that costs next to nothing and will give you the most organic experience. Oh, and don't forget your camera!
Once you hop off, take some time to explore the city streets. With such a variety of excellent shopping strips and cultural attractions, such as the Museum of Contemporary Art, you'll be absorbed and entertained for hours on end.
Soaking up the sun
Just minutes from the big city lights and beautiful harbor, you'll come across Sydney's picturesque beaches. Don't be surprised if you feel like you never want to leave after visiting these postcard-perfect scenes! On the top of your hit list should be the ever-famous Bondi beach, where couples, families and singles cruise the waters edge in search of an endless summer feeling. However, Bondi can be impossibly busy given its international repute; so if you're looking for something a little more authentic and removed from the tourist craze, hit up the beautiful Coogee Beach instead. Located just 10 minutes south of Bondi, Coogee doesn't compromise on looks, is more laid back and offers plenty of room for you to spread out and enjoy the sunny day. Make sure to take in a fresh juice, smoothie or icecream-fix from one of the great cafés by the water before you leave.
If you want to see the beauty of the coastline without the sandy aftertaste, put on some comfortable walking shoes and head straight to the gorgeous cliffs of Watsons Bay or the Sydney Harbor National Park. Again, you'll want to remember to bring your camera to these incredible lookouts. From here, you'll be able to stand on the cliffs and see first hand why Australians love Sydney so much: it's the perfect mix of cosmopolitan city living, and natural Aussie coastlines and bushlands to make you never want to leave.
A gastronomic engagement
After spending the day walking around the city, you'll no doubt have worked up a serious appetite for some good quality Aussie fare. Thankfully, in this multicultural, fresh-faced city, you'll have plenty of options to choose from on the restaurant front. Some dining hotspots include Little Italy in Leichhardt (Norton Street), where you'll find an endless supply of pasta, pizza and gelato. If Italian isn't your thing, try the relaxed atmosphere of George street in the Rocks area, or the fine dining, 'three hatted' restaurants of Crown Street, Surry hills.
Looking for a more 'luxury' dining experience? Well, Sydney knows just what you like. Look no further than the world-famous, 'Rockpool' restaurant run by multi-award winning chef Neil Perry, or the Quay restaurant, run by Peter Gilmore, overlooking the beautiful Opera House. Truly a high-class experience in themselves, these restaurants are two that will leave you feeling as though you've just dined among the stars.
Tick that box
Whether its city lights and modern extravagance you're searching for, or if you're more in favor of a chilled-out week spent under the summer sun at some of the best beaches in the world, Sydney's got you well and truly covered. Go on: don't let this particular box on your bucket list go unchecked. Book those flights, and take a chance on the wide brown land, down under.