15-year-old girl is youngest English-language Saudi author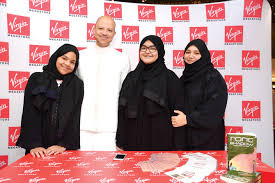 At the age of just 15, a schoolgirl has become the youngest Saudi to publish an English-language novel. Leena Althekair started writing her book, "Foreshadow," in the summer of 2017, when she was still only 14.
"I have always had this idea but it wasn't clear," she said. "But as I kept writing, it got easier and now it's in the form of 'Foreshadow.'"
The idea for the story originally emerged from a school writing assignment.
"I actually wrote an essay for school and when I re-read it I thought, 'You know what? This is a pretty good novel idea' — and then I spent whole summer writing it," she said.
"For me, it was never about becoming well known, it was getting the message across that age doesn't really matter; what matters is that you need to work hard. You are never too young or too old to be chasing your dreams."
Althekair said she had her share of naysayers and detractors who told her she was not old enough to succeed.
"People would say to me, 'You are still young — don't do it now because you have so much ahead of you.' But my mom and dad and my friends have been such a big support, cheering me on," she said. "Sometimes I would just want to stop but my friends told me to go on. In the beginning it was hard, because people wouldn't take me seriously. A lot of them didn't say anything but they would give me strange looks. I focused on the people who supported me instead."
It is well known that writer's block is the worst enemy of an author. Most will face it at some time, and Leena was no exception.
"In the middle of the book I started panicking because I had only planned it that far," she said. "There were times I deleted whole chapters right before sending it to the editor and wrote the whole thing again."
After pushing through the tough times, the book was finally completed and published, and Althekair recently appeared at the Virgin Megastore in Jeddah to sign copies for excited readers. Her family were there, as always, showing support for their talented daughter.
The book features a suspenseful, well-written story that draws the reader in from page one. The plot revolves around the adventures of Meghan, who is about to start high school. Her older brother is a physics geek, and she is spending time with him in his lab when an accident changes her life.
As for Althekair's own continuing adventure as an author, she said she has ideas for further novels, including a possible sequel for "Foreshadow."