9-year-old Mariam was declared the Arab Reading Champion for 2018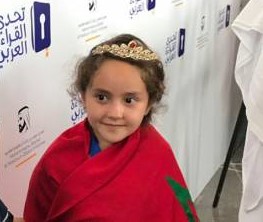 The 9-year-old Mariam Amjoun from Morocco was declared the Arab Reading Champion for 2018, after winning ahead of 10.5 million students from 44 countries.
Crying on stage upon the announcement, the little girl was rewarded by His Highness Sheikh Mohammed bin Rashid Al Maktoum, Vice-President and Prime Minister of the UAE and Ruler of Dubai.
Sheikh Mohammed used his Ghutra to rub away her tears in a heart warming scene that promted the crowd to applaud.
Amjoun takes home Dh500,000 cash prize, of which will go to her university education and her family for their encouragement.
Asked on stage by the judging panel about the content should would share if she had a million followers on social media, Amjoun said, "I would write to people about the joy of reading, and how reading will save nations drowning in illiteracy and poverty. Reading is a hospital to the mind."
Al Ikhlas School from Kuwait won Dh1 million Outstanding School prize for its reading initiatives where $100,000 will go to its principal.
Amjoun outperformed the 16 semi-finalists who were further narrowed to five after the jury made the shortlist based on participants' comprehension of text and ability to communicate accurately in Arabic; critical and creative thinking; and general knowledge.
The five finalists were judged on stage by a panel, each given 60 seconds to answer a question. The audience then cast their votes to one of the finals, making up 20 per cent of the judgement.
The third edition of the Arab Reading Challenge, which requires each student to read and summarize 50 books in an academic year, witnessed a 25 percent increase in participation over the previous year with 10.5 million students competing to win prizes totaling Dh11 million (more than $3 million).
This year's edition expanded the geographical reach of through opening to students from Arab communities residing in non-Arab countries and non-native speakers of Arabic.
Inviting the participation of Arab students living outside the region for the first time, the Arab Reading Challenge registered a total of 44 countries in 2018 – up from 16 in the previous year.
This year involved over 86,000 supervisors, while the number of participating schools rose from 11,000 schools in 2017 to 52,000 in 2018.
Launched in September 2015, ARC became the largest pan-Arab project that aims for a million students in the Arab region to read 50 million books a year.
Seven-year-old Mohammed Jallood from Algeria and Palestinian-based Talaie' Al-Amal School were the winners of the 2016 Arab Reading Challenge. The 17-year-old Palestinian Afaf Raed and Al Iman School from Bahrain were last year's champions.