Assaf wows UK fans at 'The Idol' premiere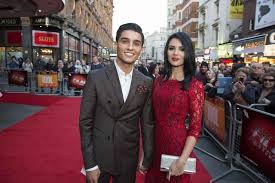 Palestinian pop star Mohammad Assaf attended the London Film Festival premiere of 'The Idol', the film inspired by his rise to fame, on Monday night, the Gulf News reported.
Assaf walked the red carpet with his fiancee, TV presenter Lina Qishawi, the film's director, Oscar-nominee Hany Abu Assad and Waleed Al Ebrahim, the chairman of MBC Group, co-producer of the film and also owner of the Arab Idol franchise.
Shot in the Gaza Strip, Jenin and other areas of the Palestinian territories in addition to the Dead Sea in Jordan, 'The Idol' is inspired by Assaf's life — from his humble beginnings in a refugee camp to his path toward stardom and win of the singing reality show in 2013.
"Entire generations grew up on the pulse of the Palestinian cause, with unfortunate setbacks and disappointments; however, today 'Arab Idol Assaf' — who came out from the heart of Palestinian suffering — carries with him headlines of hope filling the hearts of tens of thousands of young Palestinians" Al Ebrahim said.