Bobo's wedding goes viral on social media
Two-foot tall Bobo and Six-foot tall Fauzia get married in a larger than life wedding reception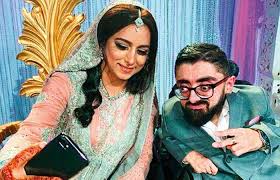 A larger-than-life wedding reception of a Pakistani couple in Oslo has gone viral on the internet after it showed the groom, a polio survivor, dancing to Punjabi numbers in his friends' arms.
The wedding reception of Burhan Chishti and Fauzia was held in Oslo recently and was attended by nationals from thirteen different countries. The video showed Bobo taking selfies with his bride, Fauzia, and coming to the wedding reception holding her hand while driving his electric wheel chair.
Six-foot tall Fauzia, who hails from Pakpattan, said that she loved Burhan, who is affectionately referred to as Bobo, and had even inscribed his name on her hand to highlight this feeling.
Two-foot tall Pakistani groom Bobo, who has an active presence on the social media, also said that the feeling was mutual, and even enacted some of his favorite dialogues from feature films before going off to dance to Punjabi beats with friends.
The Twitter profile of Bobo is full of his encounters with celebrities at different events. Even though Bobo suffers from a debilitating illness, it is quite clear that he lives his life to the fullest.
Bobo follow lavish lifestyle despite his 'disability' as runs various business including Bobo Style event, suits, management and Bobostyle Charity. He also represents Indian film star Salman Khan's Being Human campaign in Norway. He has also won the best inspirational person award in 2017.
My first tweet ever with bhai jan @BeingSalmanKhan ?? Greatest superstar i ever met. Thanx @MaheckChahal. On set for Tiger Zinda he? pic.twitter.com/m7FSS6lL2Z

— Bobo (@Bobostylenorway) October 23, 2017