Bangladesh will be poverty-free in 3 years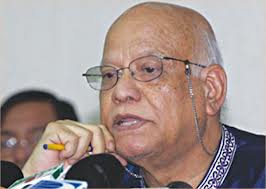 Finance Minister AMA Muhith here on Sunday said there will be no poor people in Bangladesh after three years.
Observing that the main objective of the Awami League government is to ensure people's welfare, "The poverty rate has slid down to 22 percent due to various development programmes taken by the government. There'll be no poor people in the country after three years," he said.
The minister was speaking at the opening session of a five-day workshop on 'Strategy to check import of fake and adulterated goods' at the conference of Grand Sultan Tea Resort and Golf in Srimangal.
The National Board of Revenue (NBR) and World Customs Organisation jointly organised the workshop. Muhith, however, said there always remains 10-14 percent poverty in any country.
He also said the government will continue to provide assistance to them. The minister said the NBR has to play an active role in implementing the big national budget.