Beauty secrets from your kitchen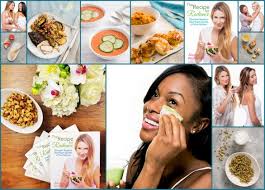 Hanan Mohammed: Obtaining a beautiful, bright and soft skin does not mean you have to buy over-priced products that are loaded with chemicals. Just walk into your kitchen and figure out what goes well with your skin and create a magical potion without all the toxic ingredients.
Pure and simple food items are just what your skin needs for a healthy boost that you can see and feel. Foodstuff that is found in your pantry and fridge can help you to create amazing 'Do it yourself' facial masks.
These recipes are some basic and simple ideas on how to incorporate everyday foods into skincare. Be creative with other foods as well. If you know it to be healthy to ingest, it's likely healthy and beneficial for your skin as well.
For example, nutrient dense foods like kale and strawberries are full of antioxidants and healing plant compounds called phytochemicals. Thus, when used on your face, these foods can give your skin a healthy boost of nutrients. Your skin will thank you.
Oatmeal facial masks
If you're looking for a quick recipe that will leave you feeling and looking better, give yourself an oatmeal facial. Mix 1/2 cup hot— not boiling— water and 1/3 cup oatmeal. After the water and oatmeal have settled for two or three minutes, mix in two tablespoons plain yogurt, two tablespoons honey, and one egg white. Apply a thin layer of the mask to your face, and let it sit for 10 to 15 minutes. Then rinse with warm water. (Be sure to place a metal or plastic strainer in your sink to avoid clogging the drain with the granules.)
Vinegar facial masks
Using vinegar as a skin toner dates back to the time of Helen of Troy, and it's just as effective today. After you wash your face, mix 1 tablespoon apple cider vinegar with 2 cups water as a finishing rinse to cleanse and tighten your skin. You can also create a homemade facial mask by mixing 1/4 cup cider vinegar with 1/4 cup water. Gently apply the solution to your face.
Chocolate bath:
Chocolate, especially dark chocolate, is also high in antioxidants, like pumpkin, and works as a deep moisturizer for dry skin — something a lot of us are starting to feel more and more as the weather cools down. You will only need 1 cup bubble bath, 1/2 cup milk and 60 grams (about 1/2 cup) crushed dark chocolate.
To prepare for the bath, bring milk to a boil, stir in chocolate bits until melted. Let cool and add the mixture into 1 cup of bubble bath liquid. Use 1/2 a cup of the mixture for each bath. This amount can last for about four days.
Milk facial masks
Here's another way to give yourself a fancy spa facial at home. Make a mask by mixing 1/4 cup powdered milk with enough water to form a thick paste. Thoroughly coat your face with the mixture, let dry completely, then rinse with warm water. Your face will feel fresh and rejuvenated.
Rosemary citrus body polish
Give it a try — it's easy and effective, and you'll be giving yourself the luxury of high-end spas right at home. Mix 2 tbsp crushed rosemary, 1/4 cup natural sea salt 1/4 cup oil (grape seed, coconut, etc.), 1 tsp fresh squeezed lemon juice with 1 tbsp honey and watch the magic happen.
Coconut oil for your hair:
Use this magical oil to create a conditioning hair mask before you wash to help soften the look of split ends when it's dry. This oil is rich in fatty acids and proteins, so you should expect your hair to look healthy, shiny, and hydrated.
Small drops are enough because a little goes a long way, whether you're using coconut oil as a hair mask or to keep your ends healthy and split end-free, use it cautiously. If you use the oil as a mask, a good deep cleansing shampoo will help clear away any leftover coconut oil, so your hair doesn't feel glossy later.
Another great tip using coconut oil is to use it as a makeup remover, add a few drops to facial cotton and wipe away your makeup. Don't be surprised if you notice that your lashes are thick after use, this is what coconut oil is all about.
Homemade facial masks are an inexpensive and creative way to achieve healthier skin. This way, you know what's being absorbed into your skin and you're finding a way to be creative and are thinking outside the box in regards to food and skincare. Pre-made jars of these masks (sans the egg mask) make for great, unique, handmade gifts.