Jolie to direct film on Cambodian war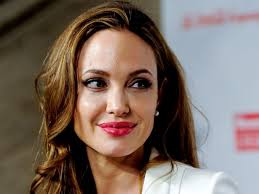 Actress-turned-director Angelina Jolie is to make a film about Cambodia's Khmer Rouge regime seen through the eyes of a war-scarred child for Netflix, the streaming giant said Thursday.
The Oscar-winning Hollywood A-lister will adapt "First They Killed My Father: A Daughter of Cambodia Remembers," a harrowing memoir by Cambodian human rights activist Loung Ung about surviving the deadly regime.
"I was deeply affected by Loung's book," said Jolie, cited in a Netflix statement. "It deepened forever my understanding of how children experience war and are affected by the emotional memory of it.
"And it helped me draw closer still to the people of Cambodia, my son's homeland," said the 40-year-old, speaking of Maddox, her adopted son with megastar husband Brad Pitt.
Netflix said Maddox Jolie-Pitt, 13, the Hollywood couple's eldest child, will be involved in the production.
Jolie will direct and produce the film from a script she co-wrote with Ung. Acclaimed Cambodian director Rithy Panh, nominated for an Oscar for 2013's "The Missing Picture," will also serve as a producer.
Netflix Chief Content Officer Ted Sarandos said: "We are proud to be working with Angelina Jolie in bringing this emotionally powerful and ultimately uplifting story exclusively to Netflix members around the world.
"Loung Ung's incredible journey is a testament to the human spirit and its ability to transcend even the toughest circumstances," he added.
The movie will be released on Netflix in late 2016.
Jolie's feature film debut was 2011's "In the Land of Blood and Honey" set in the Bosnian war. Her 2014 "Unbroken" was nominated for three Oscars.
She won an Oscar for best supporting actress for 1999's "Girl, Interrupted." She also won the Academy of Motion Picture Arts and Sciences' Jean Hersholt Humanitarian Award last year.