Sami Yusuf 'banned by his own' after Israel concert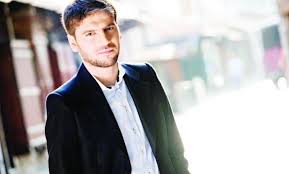 A performance in Israel has cost Iranian-born British singer Sami Yusuf air time in Iran.
State television in Iran has banned Yusuf, whose records sell millions in the Middle East, because of his recent performance in the Israeli city of Nazareth, even though the city has a predominantly Palestinian population and most of his audience was Palestinian, reported The Guardian.
While his popularity is likely to remain high in his homeland, his music won't be allowed to air on any of the state TV's channels.
Despite the majority of Yusuf's Ramadan concert-goers being Palestinian, Iran was having none of it.
"Sami Yusuf's recent trip to the occupied territories is the reason why his works are banned from the state television," reported Entekhab, an Iranian news website. On his part, Yusuf, 35, announced the news with an Instagram post titled "Banned by My Very Own."
"I was very surprised to hear that the official state TV and Radio for the Islamic Republic of Iran has banned my music and likeness due to my recent performance in Nazareth," he wrote.
"I was not aware that bringing smiles to the faces of my beloved Palestinian brothers and sisters could cause such offense to the government of Iran. I am sorry that my precious listeners in Iran will be denied my music for sometime, but I will not apologize for performing in Palestine."
"Music is permeable and was never meant to be confined to borders nor used for political ends, rather, it was meant to echo freely throughout space and time. May we one day see a Free Palestine."
Yusuf, 35, who Time magazine has called Islam's biggest rock star, is one of Britain's most famous Muslims worldwide.