Saudi boy rapped for taking selfie with dead grandpa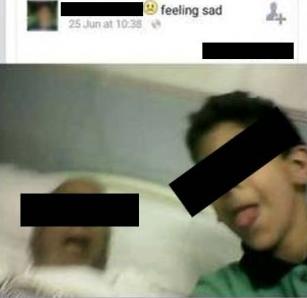 A young Saudi boy has been criticised by the authorities for flagrant "violation of public morals" after he took a picture of himself with his dead grandfather.
The teenage boy posted the offending 'selfie' on Facebook with the caption "Good Bye Grandfather" and the picture went viral, sparking widespread condemnation and calls for the hospital to investigate.
Gulf Daily News reported that critics have claimed the hospital was lax in allowing the boy to take the picture, as it failed to respect the dead man's dignity.
It quoted Abdul Razak Hafedh, head of public relations and media in the Madinah district of Saudi Arabia, as saying: "The health authorities in Madinah are looking into the case and assessing whether the selfie was taken at a hospital in the area.
"Should that be the case, action will certainly be taken against all culprits for allowing or failing to prevent such an immoral act.
"The security authorities will also be alerted to take action against the teenager for his irresponsible behaviour and for his violation of public morals."
And lawyer Saud Al Harbi reportedly said the teenager's action was a crime punishable by law.