Titanic composer James Horner dies aged 61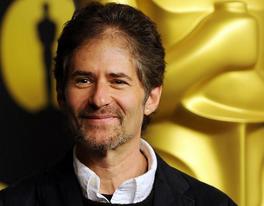 Composer James Horner, who won two Oscars for the music of "Titanic" and scored such other blockbusters as "Avatar," "Braveheart," "Apollo 13" and "A Beautiful Mind," has died, Variety has confirmed. He was 61.
Horner was one of the most popular film composers of the last 30 years, and his "Titanic" soundtrack – with its hit Celine Dion song, "My Heart Will Go On," written with Will Jennings – became the biggest-selling movie-score album of all time, selling an estimated 30 million units worldwide. He scored more than 100 films in all and was often in demand for big popcorn movies.
Most recent were "The Amazing Spider-Man" and "The Karate Kid" remake, but he also scored "How the Grinch Stole Christmas," "The Perfect Storm," "Clear and Present Danger," "Honey I Shrunk the Kids" and "Aliens." He was born Aug. 14, 1953 in Los Angeles, the son of production designer Harry Horner.
He spent his formative years in London, attending the Royal College of Music, but he returned to L.A. and earned his bachelor's degree in music at the USC and did post-graduate work at UCLA. Horner began his career with AFI shorts and low-budget Roger Corman films including "The Lady in Red" and "Battle Beyond the Stars," quickly graduating to major studio films including "Star Trek II: The Wrath of Khan" and "Star Trek III: The Search for Spock."
His 1980s output demonstrated his versatility, including scores for "48 Hrs.," "Cocoon," "Willow" and "Field of Dreams." In the 1990s he added "The Rocketeer," "Sneakers," "Patriot Games," "Legends of the Fall" and "Ransom" to his resume before hitting the jackpot, both financially and awards-wise, with "Titanic."
In addition to his two Oscars, he won song and score Golden Globes for the James Cameron film. He received eight other Oscar nominations, including seven for the scores of "Aliens," "Field of Dreams," "Apollo 13," "Braveheart," "A Beautiful Mind," "House of Sand and Fog" and "Avatar."
As a songwriter, he earned an Oscar nomination and two 1987 Grammys including Song of the Year for "Somewhere Out There," written with Barry Mann and Cynthia Weil for the animated film "An American Tail."
He did the "American Tail" sequel "Fievel Goes West" and musically launched another popular animated-film franchise with "The Land Before Time." He earned four more Grammys including one for instrumental composition for 1989's "Glory" and three for "Titanic" including Record of the Year and Song of the Year.
He also scored Michael Jackson's "Captain EO" theme-park attraction at Disneyland in 1986 and composed music for a handful of TV movies including "A Piano for Mrs. Cimino," "Extreme Close-Up" and "Freedom Song." Horner dabbled in other realms of music-making, including composing new music for Katie Couric's stint at the "CBS Evening News" in 2006 and, in recent years, classical commissions.
In November 2014 he premiered a double concerto for violin and cello in Liverpool, England, and March 2015 saw the premiere of his concerto for four horns in London. A trained pilot, Horner also scored music for an airshow by the Horsemen in 2010.