Woman wears wedding gown after fiance dies in Lion Air crash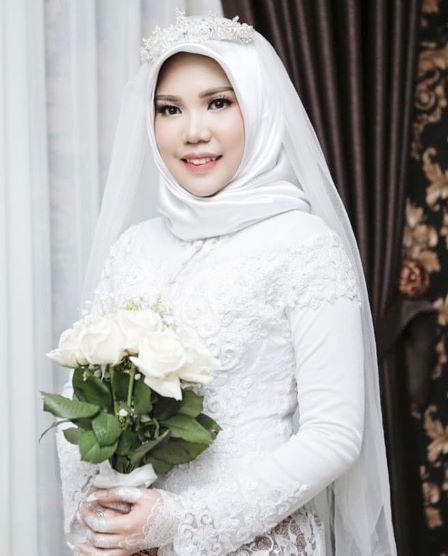 An Indonesian woman whose fiance died on a Lion Air flight that plunged into the sea was photographed in her wedding dress and professed her love for him on the day they were to have been married.
Intan Syari's fiance, Dr. Rio Nanda Pratama, was among 189 people who were killed when the Boeing 737 crashed Oct. 29 shortly after taking off from Jakarta.
Syari and Pratama, both 26, had planned to get married Sunday. Pratama, who had attended a seminar in Jakarta, was on his way home to Pangkal Pinang for the wedding.
Syari said Pratama had joked before leaving that if he was late in returning, Syari should take photos in her wedding gown and send them to him.
"We were just joking at that time," Syari told The Associated Press on Wednesday. "He asked me to still wear my wedding gown that he chose for me on our wedding day, put on beautiful makeup and hold a white rose bouquet, take good photos and send them to him."
She said Pratama was her "first love" and they started dating 13 years ago.
On Sunday, she went ahead and took photos in the white wedding gown with a white satin head covering and a white rose bouquet in her hand, surrounded by relatives and friends.
"Although I actually feel grief that I cannot describe, I have to smile for you," Syari wrote on Instagram. "I should not be sad, I have to stay strong as you always say to me, I love you, Rio Nanda Pratama."
Investigators say sensors that help prevent planes from stalling were replaced on the Lion Air plane the day before its fatal flight and may have compounded other problems with the aircraft.
Body parts are still being recovered and searchers are continuing to hunt for the cockpit voice recorder.
Lion Air is one of Indonesia's youngest airlines but has grown rapidly, flying to dozens of domestic and international destinations.