Bangladeshi expats hold Victory Day celebrations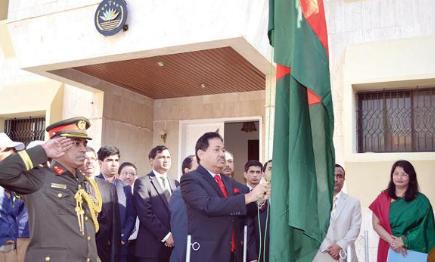 Bangladesh celebrated its 43rd Victory Day at the premises of the Bangladesh embassy in Riyadh on Tuesday.
On the occasion, Ambassador Mohamed Shahidul Islam urged his countrymen to uphold the image of their homeland and to abide by the rules and regulations of the host country.
Highlighting the significance and spirit of the day, the envoy underlined the need for renewing their commitment and reinforcing efforts for the socio-economic development of Bangladesh.
He also urged the expatriates to send remittances through the banking channels and to take part in the economic development of the country through their investments in Bangladesh.
"Our colleagues should work hard to enhance the image of Bangladesh in the Kingdom and also help contribute to the socio- economic development of their motherland," the envoy said, taking note of the excellent bilateral relations with the Kingdom.
The ambassador touched on Bangladesh's achievements in different sectors and said that the day is not far when Bangladesh would occupy an important position in the international arena and truly become Sona Bangla, 'Golden Bengal' as envisioned by the father of the nation, Bangabandhu Sheikh Mujibur Rahman.
The day's program began with a recitation from the Holy Qur'an followed by the ceremonial hoisting of the National Flag by Ambassador Islam.
Subsequently, messages from the country's president, prime minister and foreign minister were read out to the more than 300-strong gathering of the Bangladesh community assembled to mark the Victory Day. Among those present were embassy officials, students and teachers of Bangladesh international schools and representatives from organizations connected with Bangladesh in the Kingdom.
Islam paid rich tributes to the martyrs, who made supreme sacrifices to liberate the country. He paid his commendations to the father of the nation Bangabandhu Sheikh Mujibur Rahman and highlighted his legendary leadership in the Historic War of Liberation.
A special prayer was held seeking salvation for the departed souls of the valiant freedom fighters for their sacrifices during the war of independence and for continued peace, progress and prosperity of Bangladesh.
The Bangladesh Embassy in cooperation with the community members will also host a cultural event — Bijoy Utsav — at a holiday resort in Riyadh on Friday and Saturday to mark the occasion.
In Jeddah, Bangladesh Consul General Mohammed Shahidul Karim hoisted the country's national flag in the morning and hosted a cultural program at the consulate premises later in the evening.
The English and the Bengali sections of the Bangladesh international schools in Jeddah held two separate functions to commemorate the event.
"It's a great day for us and we have to forge ahead to do better service for our community," Karim said, adding that his countrymen should consolidate the victory and reap its fruits by engaging in activities that are useful to the nation and to the host country.