Prince Charles meets Saudi officials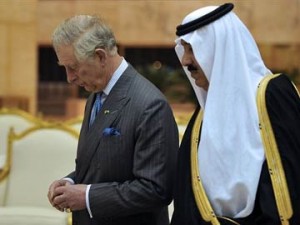 Official Saudi media and Buckingham Palace officials say Prince Charles has met senior members of the Saudi royal family in the kingdom.
In his tenth official visit to Saudi Arabia, the Prince of Wales and heir to the British throne met two sons of King Abdullah, including Prince Miteb who heads the Saudi Arabian National Guard and Prince Abdulaziz who is the deputy foreign minister.
In a statement to The Associated Press, Buckingham Palace officials said Charles also plans to meet the Saudi king before he heads to Qatar for a two-day visit.
British Ambassador to Saudi Arabia Jon Jenkins said in a statement prior to the prince's visit that the royals are expected to discuss the need for reconciliation in the region and their hopes for its future.