Cricket great Richie Benaud dead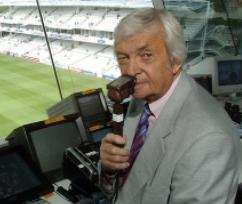 Legendary cricket commentator and player Richie Benaud has died in a Sydney hospice at the age of 84. Benaud had been receiving radiation treatment for skin cancer since November.
His family announced that he had died peacefully in his sleep. Benaud was an all-time great all-rounder cricketer, a crafty leg-spinner who captured 248 wickets in 63 Tests, an attacking lower-order batsman who hit one of the fastest Test centuries, a brilliant gully fielder with amazing reflexes and a crowd puller wherever he played.
He was also a courageous and victorious leader of men, who lost neither a Test series nor his cool.
He was the first cricketer to achieve the Test double of 2000 runs and 200 wickets and, as an all-rounder, ranks as one of the greatest.
He also played a stellar role in the formation of World Series Cricket in 1977, which changed the face of international cricket, and, as a television commentator, became "the voice of cricket".
Benaud was born in Penrith on October 6, 1930, the first of two sons of Lou Benaud, of French descent, and his wife, Irene (nee Saville).
As a teenager, Lou had played cricket, but his bigger contribution was encouraging his sons Richie and John (also a Test cricketer) to play single-handed cricket by bowling a tennis ball against a wall and hitting it on the rebound.
While his commentating for Channel Nine has become the stuff of summer legend, Benaud led the Australian team to world cricket dominance in the late 1950s. He played 64 Test matches as an all-rounder between 1952 and 1964. Shoulder trouble forced him to retire at 33 in 1963-64.
He took up his spot behind the microphone with the BBC while still captaining Australia in 1960, before becoming one of the greatest commentators in world cricket over the next half a century.
In 2013, Benaud was involved in a car crash outside his Coogee home that left him with two fractured vertebrae and ended his time in the commentary box.
He is widely regarded as one of the most influential people in the game's history.
Benaud was also involved in Sydney's murky world of police rounds reporting, working for afternoon daily The Sun in the late 1950s, Max Presnell recalls.
"Every copper at the CIB gravitated to … Benaud –  unsurprisingly, because he was Australia's cricket captain and they were enthusiastic to give him any special insight or colour he required," he writes.
Benaud opened up about his battle with skin cancer in November before the start of the last cricket season to warn people of the dangers of not wearing sun protection.
He regretted not wearing sunscreen during his decades-long cricket career and as a child.
"I never ever wore a cap on the field when I was playing," he said. "I wish I had. Because the skin cancers which I got then as a young man – that's a recurring thing now."
Among the many things that made Benaud endlessly fascinating and hugely likeable was his singular approach to style.
From an early age he showed a penchant for fashion flair, evident in the jaunty way he chose to flip up his shirt collar on the field.
His fashion sense really came into its own in the 1980s when he curated the look that came to define his decades as the country's pre-eminent cricket commentator – the beige jacket (or was it cream, off-white or bone?), the pink/mauve shirts, the perma-tan and the helmet of snowy hair.
Prime Minister Tony Abbott has offered the Benaud family a state funeral.
NSW Premier Mike Baird tweeted that he had asked for flags to be flown at half-mast today.