Former London Mayor, Ken Livingstone, agrees to advise on the regeneration of Whitechapel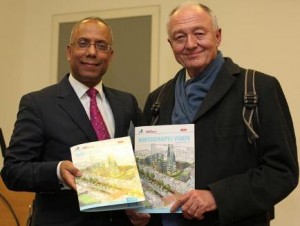 Tower Hamlets Council, key partners and local stakeholders gathered to formally launch the recently adopted 'Whitechapel Vision Masterplan' Thursday 27 March.
At the launch it was announced that former Mayor of London Ken Livingstone would support a delivery team established by the council with support of its strategic partners at the GLA, TfL, Barts NHS, QMUL and other private sector partners like the Royal Mail, Sainsbury's, London Newcastle and London Quadrant housing group.
Mayor of Tower Hamlets, Lutfur Rahman said: "This is a fantastic opportunity to take advantage of the potential around Whitechapel to build homes, new retail and office space as well as to provide improved open space. Relocating the Town Hall will be the catalyst for this regeneration project, which building on the already thriving market and local town centre will create a district to complement the Olympic site, Canary Wharf and the City.'
Ken Livingstone said: "I look forward to working with Mayor Lutfur Rahman to deliver this major regeneration project. Whitechapel is a thriving area and I'm delighted that projects like the Olympics and Crossrail have created the momentum to enable it to happen."
Drawing on the arrival of Crossrail in Whitechapel in 2018 and the benefits this will bring to the area, the new Whitechapel Vision Masterplan sets out how the council will work with its partners to transform Whitechapel into a key visitor destination and vibrant place to live.
The masterplan, which has been produced for the council with award-winning urban design practice BDP, focuses on six key 'place transformations', including the revitalisation of Whitechapel Road and the creation of a 21st century 'civic hub'.
Alongside these place transformations, the developments within the Whitechapel Vision will deliver over 3,500 new homes by 2025, including substantial numbers of local family and affordable homes; generate some 5,000 new jobs; and create 7 new public squares and open spaces.


One of the first projects will be designing the new Civic Hub. This will include the relocation of the council town hall to the old Royal London Hospital, in the heart of Whitechapel. The new civic hub will be set around a new high-quality civic square, which will offer enhanced routes and spaces for the local community. It will also be complemented by a mix of additional uses, including new retail, cultural and community facilities to provide a vibrant and sustainable development that all local residents, visitors and businesses can enjoy.
The Mayor of London, Boris Johnson, has also offered his strategic support to regenerate Whitechapel, in particular to create a new world class Med City campus for Queen Mary University alongside, an extension of Tech City to this area, as well as investment and improvements to Whitechapel Road and above station development plans to delivery more homes and jobs.
Deputy Mayor for Planning, Sir Edward Lister said: "The arrival of Crossrail in 2018 will launch a new era for Whitechapel, stimulating widespread investment in commercial activities, retail and housing and sparking massive regeneration. The Whitechapel Vision Masterplan will help us to maximise this once-in-a-generation opportunity."
As the Whitechapel Vision has developed over the last year, the council and BDP have worked closely with local stakeholders – residents, businesses, the local hospital and university, places of worship, housing providers and landowners – to listen to their ideas and aspirations for the area and ensure the masterplan reflects a collaborative vision for the area.