Forty years after Altab Ali: Council remembers murder that united community against racism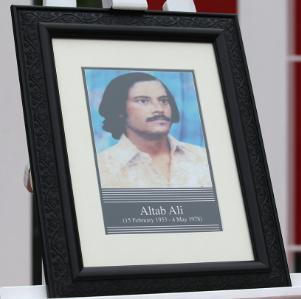 Forty years on from the racially motivated murder of Altab Ali in 1978 – an incident, which marked a significant turning point in east London's race relations – a series of events will take place in Tower Hamlets.
Altab, a 25-year old textile worker had recently arrived in the UK from Bangladesh. He was returning home from work in nearby Brick Lane when he was fatally stabbed in a park in Whitechapel that now bears his name.
His killing mobilised communities in Tower Hamlets to take a stand against hatred and intolerance.
Tower Hamlets Council will host a ceremonial event at 6pm on Friday 4 May to mark Altab Ali Day.
Will Tuckley, Chief Executive of Tower Hamlets Council, said:
"Altab Ali's terrible murder reminds us that we should never forget the importance of community cohesion and the need to stand united against racism."
Findings from the annual residents survey show that the majority of residents in Tower Hamlets (92 per cent) agree that their local area is a place where people from different backgrounds get on well together.
The Revd. Preb. Alan Green, chair of Tower Hamlets Inter Faith Forumsaid: "Despite his murder forty years ago Altab Ali's name lives on – a symbol of the determination of the people of Tower Hamlets to overcome racism and live in harmony with mutual respect. Such determination is still required to maintain those values, in his name, to make clear that Tower Hamlets has No Place For Hate."
The Altab Ali Day event in Altab Ali Park will include poetry and a site-specific performance by the council's youth arts programme 'A' Team Arts, alongside wreath laying and speeches.
Saturday 5 May will see the London debut of Purbanat CIC's play 'Brick Lane 78.' The powerful drama, which will be performed at the Brady Arts Centre at 2pm and 7.30pm, captures the spirit of 1978. The evening performance will be followed by a panel discussion hosted by television presenter Urmee Mazhar.
Sunday 6 May will feature short film screenings including South Asian Britain, Credo and Purbo London, all of which are poignant portrayals of Asian life in the UK.
Screenings begin at 4.45pm at the Brady Arts Centre, followed by a panel discussion with a distinguished line-up of film-makers and artists at 7.30pm. The event is free, but booking is essential.
An exhibition at the Brady Arts Centre entitled 1978: Hope not Hate will open on 3 May as part of the Whitechapel Gallery's First Thursdays programme and will run until 29 May. The exhibition showcases a striking selection of photographs, posters and prints, which document the strength of the anti-racist movement in subsequent years.