India beat Pakistan by 8 wickets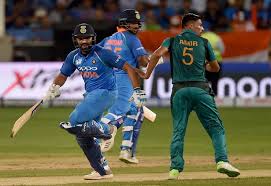 A little before midnight and 16 hours before India squared up against Pakistan, they were given more than a fright by Hong Kong.
And perhaps, India couldn't have asked for a better wake-up call than the one that they got from the Associates.
Rocking up within hours and with just a few winks of sleep, there were no signs of weariness though. The Indians were as wide awake as an owl as they preyed on Pakistan in the first instalment of their three-part series in the Asia Cup.
Once all the returnees Bhuvneshwar Kumar, Jasprit Bumrah and Kedar Jadhav swallowed the Pakistan batting line-up for a T20-like total of 162, it didn't need rocket science to know who would be the winners.
Pakistan's promising batsmen may have folded like a pack of cards but there were to be not even a little chance of a mirror-image when India's much-vaunted batting line-up fronted up against the likes of left-arm quicks Mohammad Amir, Usman Khan, Hasan Ali, Shadab Khan and Faheem Ashraf.
The captain Rohit Sharma and his deputy Shikhar Dhawan put them on cruise mode and on course to the destination without much of a fuss as India completed a clinical eight-wicket win.
Rohit helped himself to a 39-ball 52, his 35th half-century and his first substantial contribution since the unbeaten 137 against England in Nottingham in July. The Mumbaikar was castled by the 19-year-old leg-spinner Shadab Khan.
Meanwhile, Dhawan carried on from the other night but fell four runs short of his 26th half-century, caught by Azam off Ashraf.
Ambati Rayudu and Dinesh Karthik then saw them through in 29 overs, remaining not out on 31 each.
This was a workman-like show from the Indians with almost everything going like clockwork. And the victory went someway in admonishing the demons of The Oval where India had lost to Pakistan in the ICC Champions Trophy final last year.
On that occasion, Pakistan had flayed India by racking up 338 for four and then flat-lining them for 158.
Pakistan scored four runs more than what India had managed to muster in that game.
Maybe, it was time to return the favour.
Earlier, Bhuvneshwar, returning to the side following an injury lay-off that had kept him out during the tour of England, was miserly in his seven overs, picking three wickets and conceding 15 runs.
India's bowling line-up, especially the pace attack that has come into its own recently, had a bit of scare after bowling all-rounder Hardik Pandya collapsed and lay on his back on his follow through.
The team doctor rushed the pitch and in scenes usually witnessed on a football pitch, Pandya was stretchered off.
The Board of Control for Cricket in India (BCCI) said later that Pandya had an acute lower back injury.
"He is able to stand at the moment and the medical team is assessing him now," the BCCI said.
The incident happened in the 18th over with Pandya in the fifth over of his spell. Azam was on 40 and Malik on 31, with Rayudu completing the lone ball left in the over.