London Tigers Awards Ceremony 2013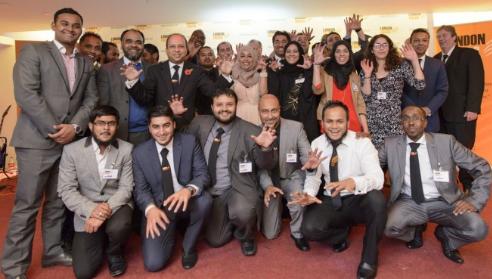 London Tigers held their Annual Award Ceremony on Tuesday 29th October at the Waterlily, Stepney Green.
Executive Mayor of Tower Hamlets, Lutfur Rahman, was Chief Guest and attended with other special guests including Towers Hamlets Councillors Ohid Ahmed – Deputy Mayor, Oliur Rahman – Cabinet Member, Cllr Rofique Uddin Ahmed – Cabinet Member, Cllr Lesley Pavitt – First Speaker, Redbridge Leader of the Council Cllr Keith Prince, Cllr Barrie Taylor of Westminster, Cllr Nasim Ali of Camden and others. Also present were Anwar Choudhury, former British High Commissioner for Bangladesh, Azizur Rahman, Honorary President of London Tigers Football Club, Ruqsana Begum, British kickboxing champion, Baroness Pola Uddin of the House of Lords, Subrina Hossain CEO of Channel NTV Europe, Nahida Rahman of Channel Nine and representatives from The FA.
Sulthana Begum of London Tigers and Nadia Ali of BBC Asian Network hosted the evening. On behalf of the organisers, trustee Ron Boddy gave opening speech. Over 100 awards were distributed to members of the Football, Cricket and Badminton clubs along with Health and Volunteer awards. Special awards were given to Volunteer of the Year (Tazmul Ahmed), Young Person of the Year (Aktarur Rahaman), Special Recognition (Ibrahim Ansar, Polly Islam, Moinul Islam and Tarik Ali Khan) and Tiger of the Year (Nurul Hoque).
As well as the awards a charity raffle and auction was held with the first prize being two tickets to a premier league game of choice. There were also performances from Faisal Salah, Melissa Melodee, Asabi Hawa, Shefali, Shumit, Sumon, Riya and Phoenix Dance Group. Guests also took photos with The FA Community Shield.
London Tigers thanks all their supporters and especially the sponsors of the awards ceremony who were Pride of Asia, Canary Wharf Group Plc, Direct Auto Services, JMG Cargo, Sylhet Excelsior, Impress Media, Hamlets Training Centre, Hillside Travels and Golden Day Travel.