NEO Cricket Club crowned National Cricket League champions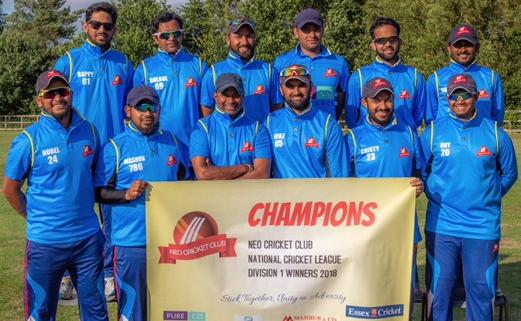 Shahin Khan: A tremendous end of season finale saw Neo CC crowned kings of the National Cricket League division 1 for 2018. The team's work rate, determination, flair and consistency paid off as they wrapped up the final match of the season against London CC with a victory of 23 runs.
Although Neo CC secured the league title a game in hand, Neo CC decided to Bat first against London CC in dry batting condition. Skipper Ayaz Karim had decent batting line up for the game and sent Nobel and Shihan to open the Batting for Neo CC. Both batsman looked comfortable in the middle until Shihan was dismissed on 6th over. Jabir Patel, Tanzim and Kishore took 2 wickets each for London CC.
Neo CC Scored 281/8 from 40 overs. Juwel Roy who scored 42 runs in this league game has reached 600 league runs in NCL division 1 this season. At one stage Neo CC were 175/8, Rokan Arafat Mashuk (85 not out) and Din Islam (33not out) stood a partnership of 106 runs to get a defendable total.
With London CC coming into Bat Bulbul Kadir and Din Islam started the proceedings with the ball for Neo CC. Badrul Bappy and Ashfaqur Nobel took 3 wickets each and Man of the Match Mashuk took 2 wickets with mysterious spin bowling. Shakil Tutla was the top scorer for London CC with 65 runs.
Skipper Ayaz Karim said: "It is a great moment for us, winning the Division 1 championship in our first year enrollment with NCL. The players have been really committed, played their hearts out and were consistent with their performances all throughout."
Club Chairman Mike Wood said, "This is a special victory by a special team. The way we have all clicked together has been nothing short of phenomenal. The commitments from all our players were outsanding"
NCL Co-founder Sajid Patel said "You deserve the spot you achieved this season. It was hard fought and competitive season throughout the campaign"
The title sponsor of Neo CC Mr Haseeb Rahman, CEO, Pure Co Insurance, Kit Sponsor Mr Mahbub Morshed, Principal- Mahbub and Co Accountants and Mohammed Rasheed, Director – Parking Control Ltd has congratulated the team for their title win.