Pakistani child model to catwalk in London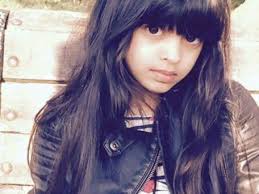 For those following the upcoming fashion extravaganza Fashion Parade in London, there's great news!
Five-year-old Pak-British fashion sensation Laila Naim, who became the first Pakistani model for UK luxury fashion house Burberry, will be making a special appearance at the grand fashion event in London on June 11.
Laila has also been featured in renowned fashion magazines such as Red, Marie Claire and Tatler.
She joins the esteemed line-up of supermodels like Kate Moss and Cara Delevingne, as well as actress Emma Watson, who have also featured in Burberry campaigns.
Laila was signed on by a leading children's modelling agency and caught the eye of the British luxury fashion house when her agents put her forward for a audition.
"She went for an audition where she wore their classic trench coat and confidently looked into the camera; that is when I knew Burberry would book her as she looked picture perfect," her mother Sadia Siddiqui says.
Doting with pride, Laila's mother added, "We celebrate Laila's entry into the mainstream high-fashion market as London is the fashion capital of the world and Asians are the largest ethnic minority in Britain.