Syeda Arefa Jamal passed Away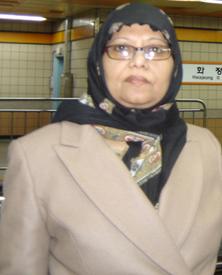 Mrs Syeda Arefa Jamal, (popularly known Mrs. Jamal), wife of Dr. Mozammel Haque, passed away on Thursday, 13th of November 2014 at 19:54 hours. Her Janaza was held at Croydon Mosque on Friday, the 14th of November 2014 after Jumah prayer and she was buried on the same day after Asr prayer at the Chislehurst Cemetery, Chislehurst. Hundreds of her admirers, friends and colleagues came at the Croydon Mosque to attend the Janaza and show their last respect and good bye.
Mrs. Jamal was born in the Syed family of Dhaka, Bangladesh, on 1st January 1954. She was the niece (sister's daughter) of Professor Syed Ali Ahsan, Professor Syed Ali Ashraf and Professor Syed Sajjad Husain.
Mrs Jamal was General Manager of the Bestway Cash and Curry. She joined the Bestway as Cash & Curry Assistant in 1991 and became the General Manager within a very short span of 23 years after serving as Manager in Lewisham, Hackney and Barking branches. She earned the reputation, honour and respect through her principle, dedication, lovely behaviour, conduct and dealing with people of all walks of life.
Mrs. Jamal was educated in Dhaka. She passed SSC examination in 1970 in First Division; passed I.A. examination in 1972 in First Division (stood first among the Girls in Dhaka Board) and graduated from the Dhaka University with Honours in Political Science in 1975 in Second Class.
Mrs. Jamal left behind her husband Dr. MOZAMMEL HAQUE, one son Adel MOZAMMEL, two daughters – Tayyeba Roula and Fatema MOZAMMEL and three grandchildren.
Last Sunday, 16th of November, 2014 at the end of the period of sorrow, there was DUA Khair where people came, assembled  and made DUA and supplication for the departed soul of Mrs. Jamal.