Top Chelsea FC striker to build mosque in Senegal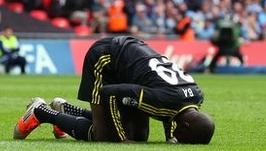 Chelsea football player Demba Ba has offered the money to build a mosque in his hometown in Senegal. The premier league strike and Senegal international player, who is known to be a devout Muslim, often celebrates his goals with a prostration.
Speaking to the Independent on Friday, sen24heures quoted Ba saying "a good Muslim is a good person, so I try to be a good person," after news broke out about his donation in the Senegalese media last week.
Ba is among 40 top footballers playing in the English premier league who openly practice their faith as Muslims, with the increasing recruitment of talented players of West African origin breaking down the barriers that once held Muslim players back from reaching the top flight.
In 1992, Tottenham Hotspur FC's Nayim was the only Muslim player in the English top division.
In 2007, Mali international Frederic Omar Kanoute, who also used to play for Tottenham, put forward US$700,000 out of his pocket to buy a mosque in Seville, Spain, after the contract on the premises had expired.