UK Islamophobic Attacks Surge in 2013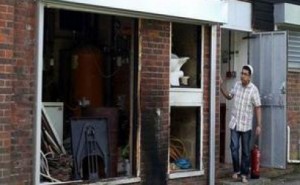 Hundreds of anti-Muslim hate offences have been carried out across the country in 2013, with Britain's biggest force, the Metropolitan police, recording an increase of 49% than last year.
"The far right groups, particularly the EDL (English Defence League) perniciously use the internet and social media to promote vast amounts of online hate," Fiyaz Mujhal, director of Faith Matters, which runs the Tell Mama project, told Press Association on Friday, December 27.
According to Mujhal, reaction to the murder of Fusilier Rigby had caused the number of Islamophobic crimes to "significantly jump".
Reports released on Friday found that the Metropolitan Police recorded 500 Islamophobic offences from January to mid-November this year, compared with 336 offences in 2012 and 318 in 2011.
In May alone, the month when two Islamic extremists murdered soldier Lee Rigby in Woolwich, south-east London, Scotland Yard recorded 104 anti-Muslim hate crimes, followed by another 108 in June.
The highest increase of anti-Muslim attacks was found in Greater Manchester Police (GMP), recording nearly double the number of Islamophobic crimes this year, with 130 offences in 2013 compared with 75 in 2012.
GMP's total for this year included a peak of 36 offences in May, the month Fusilier Rigby from Manchester was murdered.
Similar increase was also recorded in Leicestershire, Thames Valley, West Mercia, Cheshire, Merseyside, West Yorkshire and Humberside.
Britain is home to a sizable Muslim minority of nearly 2.7 million.
British Muslims and mosques have been potential targets for dozens of attacks after the killing of a British soldier in Woolwich, south London, last May.