UK to expel 23 Russian diplomats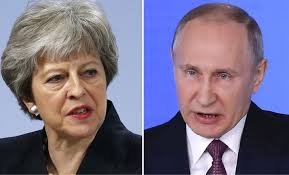 British Prime Minister Theresa May said on Wednesday she had come to the conclusion that Russia was culpable for the attempted murder of Sergei Skripal and his daughter.
In a speech in the British Parliament soon after Yakovenko's statement, Prime Minister Theresa May said Britain would expel 23 Russian diplomats, describing it as the single biggest expulsion in over 30 years.
Skripal, 66, and his daughter Yulia, 33, were found slumped unconscious on a bench outside a shopping centre in the genteel southern English city of Salisbury on March 4.
They have been in a critical condition in hospital ever since.
"There is no alternative conclusion, other than that the Russian state was culpable for the attempted murder of Mr Skripal and his daughter, and for threatening the lives of other British citizens in Salisbury," May said.
"This represents an unlawful use of force by the Russian state against the United Kingdom," she said. "Under the Vienna Convention, the United Kingdom will now expel 23 Russian diplomats who have been identified as undeclared intelligence officers," May told parliament. "They have just one week to leave."
May said the biggest expulsions from London in 30 years would degrade Russian intelligence capabilities in Britain for years to come.
"We will freeze Russian state assets wherever we have the evidence that they may be used to threaten the life or property of UK nationals or residents," May said.
Russia's Ambassador to Britain Alexander Yakovenko warned London on Wednesday of reciprocal measures if Britain expelled Russian diplomats. The Russian embassy to the UK said all responsibility for the deterioration of the Russia-UK relationship lies with the current political leadership of Britain.
Moscow refused to comply with Britain's demands that it explain how Novichok — a form of nerve agent developed by the Soviet Union during the Cold War — came to be used in Britain. Russia said the U.K. must first provide samples of the poison collected by investigators.
Putin spokesman Dmitry Peskov told reporters on Wednesday that Britain has offered "baseless accusations which are not backed up by any evidence." He said Russia would cooperate with the investigation but does not see Britain's willingness to reciprocate.
"We hope reason will prevail and other countries will think hard how serious the evidence against Russia is," he said.
Russia has claimed that the nerve agent could have come from another former Soviet country, pointing to Moscow's foe, Ukraine.
Lawmaker Vladimir Gutenev, a member of the state commission for chemical disarmament, said Russia had scrapped its stockpile of Novichok.
"It is hard to say what may be happening in neighboring countries," he was quoted as saying by the Interfax news agency.
Meanwhile, the UK foreign office has told Britons travelling to Russia to be aware of the possibility of anti-British sentiment or harassment. It also advised Britons in the country to avoid commenting on politics publicly.
May also told parliament that British ministers and the royal family will not be attending the World Cup in Russia later this year after spy attack.