Zaman Became 1 In A Million Of London Marathon's History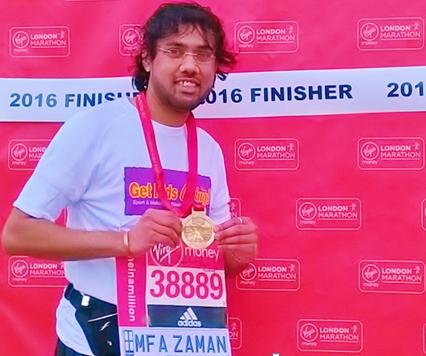 The London Marathon; biggest charity run event in the world and Zaman has done it along with 40,000 runners. 26th April Sunday; on sunny day the people from all over the world ran 26.2 miles only to help the humanity and change the world. This is second time Mfa Zaman ran in London Marathon to help the disabled kids. On that day He has completed 150+ miles run on behalf of Get Kids Going who is closely working for disabled kids.
Zaman said, I am excited and grateful to Almighty. I did last year London Marathon 2015 and again I have done it in 2016. So it is a really big achievement in my life. Run 26.6 miles is not an easy task to everyone. Because on that day British army officer David Seath died at 23 miles while he suffered a cardiac arrest and died after being rushed to hospital. So from there you could imagine how challenging run in London Marathon! It is always tough but I was always trying to motivate myself during my run. I was really tired and feeling painful, dehydrated. End of the day I am happy because I am running to change the life of disabled persons who are looking for a light in life.
And after finish London Marathon 2016; I became One In Million Runner in History. Because since 1981 to 2016; one million runner has completed the London Marathon.
Also I am giving special thanks to those who are keep supporting me since I have started my run and donated generously. Because without their support, inspiration; today it was not possible. So my achievement is their achievement also. And I hope that they will keep support and pray for me to carry on for the humanity.
Get Kids Going who is working hard to develop disabled kids age between 5-20 years old from every colour & race. They are specialist on sports training like rugby, cricket, athletics, badminton, basketball etc. After the training these disabled kids are participated in world sports event like Para-Olympic, Common wealth game and other sports events. They are doing great work to change a disabled person's life. Lord Co OBE is the Chairman of the Get Kids Going.
Greatest cricketer Sir Viv Richards OBE, Brian Lara, British Decathlete Daley Thompson CBE, Celebrity runner David Hemery CBE, British commedia, Russell Brand; all those famous person have encouraged Zaman to carry on this charity work to help the disabled kids.
This is my humble requests to all of you please share my message and donate generously to achieve my target which would change a life. Please visit to www.justgiving.com/mfa-zaman Or Donate by Text MFAZ99 £10 to 70070 (it's free).