Bangla opposition to defy march ban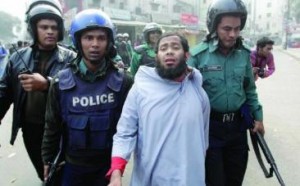 Bangladesh opposition leader Khaleda Zia vowed Friday to go ahead with a mass march on Dhaka which is aimed at scuppering a Jan. 5 general election, despite a police ban.
"I hope you will join our gathering, and defy all the obstacles that are being placed in our way, so that we can save democracy," Zia said in a video message shortly after police banned the rally scheduled for Sunday, a week before the elections.
The former premier posted the video message from her home in a Dhaka neighborhood where she has been under unofficial house arrest since Wednesday, according to her Bangladesh Nationalist Party (BNP).
Her statement came shortly after Dhaka police said they would not sanction any such protest, citing fears of violence and public safety.
"We have not given permission to the BNP rally as we have intelligence that sabotage may occur," police spokesman Monirul Islam told AFP.
"The program will not be allowed because of public safety."
Zia has previously said that she wants to lead the rally, saying it would be a way "to say 'no' to these farcical elections."
The BNP and 20 other parties have announced they are boycotting the Jan. 5 election, fearing the result will be rigged.
The parties have been demanding that Prime Minister Sheikh Hasina stands down and allows a neutral caretaker government to oversee the polls as in previous contests, but she has refused to yield.
The credibility of the polls has been further undermined by the refusal of foreign countries and organizations to send observers, but Hasina has insisted that they will go ahead regardless.
"There is no power which can stop the elections," she said in a campaign rally on Thursday.