Bangladesh plane crash in Nepal, 50 killed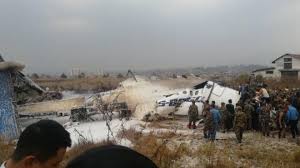 A Bangladeshi airliner with 71 people on board crashed on Monday while coming in to land at the airport in the Nepali capital, Kathmandu, killing at least 50 people, officials said.
The plane, operated by US-Bangla Airlines, was on a flight from Dhaka when it hit an airport fence and burst into flames, said Raj Kumar Chettri, general manager of the hill-ringed airport, which is prone to bird strikes and other hazards.
"We have recovered 50 dead bodies so far," said army spokesman Gokul Bhandari. Several people had been rescued from the burning wreckage of the Bombardier Q400 series aircraft but nine people were still unaccounted for, he said.
Captain Abib was leading the contingent along with co-pilot Prithula. Khwaja and Nabila were the flight crews in the flight.
The aircraft burst into flames and came to rest in a field near the tarmac of Tribhuvan International Airport.
Many of the bodies that lay on the tarmac covered by cloth were charred, witnesses said. Thick plumes of smoke could be seen from the aircraft.
Later, photographs showed the fire had been put out, with army personnel and rescue workers at the scene.
Data from tracking website Flightradar24.com showed the aircraft was 17 years old. The aircraft descended to an airport altitude of 4,400 feet and then ascended up to 6,600 feet before crashing about two minutes later, the website said.
Mountainous Nepal has had a poor air safety record. Small aircraft ply an extensive domestic network and often run into trouble at remote airstrips.
A Thai Airways flight from Bangkok crashed while trying to land in Kathmandu in 1992 killing all on board.
US-Bangla Airlines is a unit of the US-Bangla Group, a US Bangladeshi joint venture company. A spokesman for the airline in Dhaka had no immediate comment.
The Bangladeshi carrier launched operations in July 2014 and operates Bombardier and Boeing aircraft.
PM condoles deaths in Kathmandu plane crash: Prime Minister Sheikh Hasina has expressed deep shock and grief over numerous casualties as the US-Bangla Airline carrier BS 211 crashed in Kathmundu's Tribhuban International Airport. The PM prayed for the salvation of the departed souls and hoped for quick recovery of the injured. She expressed her condolences for the families of the deceased.
BD embassy opens hotline: State Minister for Foreign Affairs, M Shahriar Alam, has informed people about the Bangladesh Embassy's Emergency Hotline number in his official Facebook page, moments after news of the US-Bangla Airlines plane crash in Kathmandu broke out.
He said that embassy officials are not present in both the airport and hospitals. He posted that the embassy can be reached at +9779810100401 (Md Al Alamul Emam, Consular, Embassy of Bangladesh in Nepal), +9779861467422 (Asit Baran Sarker). He urged everyone to be patient to get the exact news.