Egypt court jails Salafist leader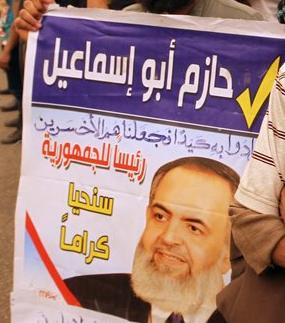 An Egyptian court on Saturday slapped Hazem Salah Abu Ismail, a Salafist leader and an outspoken critic of interim authorities, with one-year term for offending the judiciary, the second such a verdict against the former presidential candidate.
On January 20, Abu Ismail was sentenced to one year in jail for offending the judiciary as well.
During Saturday's trial session, Abu Ismail objected to the presence of a lawyer commissioned by the court to defend him, a judicial source said.
The same court set April 16 for issuing a verdict on charges leveled against Abu Ismail of fabricating documents related to the nationality of his mother.
Prosecutors accused Abu Ismail of submitting ion 2012 documents – as part of his presidential election application – to the effect that his mother does not carry the American nationality.
However, the Egyptian Foreign Ministry presented documents proving that the man's mother carried the American nationality.
Abu Ismail is an outspoken critic of Egypt's interim authorities. He considers the July 3 ouster of elected president Mohamed Morsi a "military coup".