Erdogan's daughter Sumeyye may step into political limelight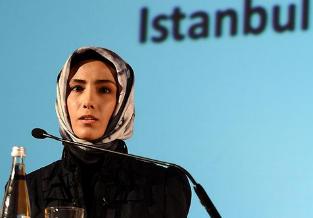 President Recep Tayyip Erdogan's daughter may be assuming a more prominent role in Turkish politics, a high-ranking member of the Justice and Development Party (AKP) suggested Friday.
Sumeyye Erdogan, the Hurriyet Daily News reported, may be running for a seat in Turkish parliament as a member of the Justice and Development Party (AKP), according to party deputy head Süleyman Soylu.
"Politics is about genetics. It can be transmitted through fathers and families," he was quoted as saying.
"It's a question of representing an era. Our president is part of active politics as the head of the executive, but it would be nice if Sumeyye Erdoğan presents her candidacy," Soylu said during a show on Turkey's Haberturk television channel.
While Sumeyye's political career was not widely discussed, she is known to be a close companion to the Turkish president as she has taken part in visits and trips with his fathe,  the Turkish daily reported.