First Bangladeshi expat gets UAE permanent residency 'Golden Visa'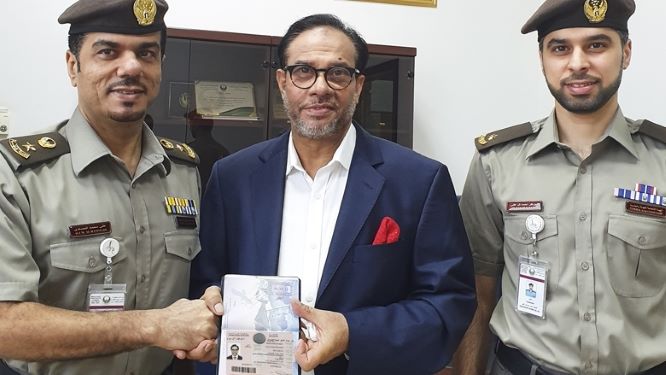 Mohammed Mahtabur Rahman, Chairman and Managing Director of Al Haramain Group of Companies, Chairman of NRB Bank Ltd and President of Bangladesh Business Council in Dubai, has become the first Bangladeshi expat to be awarded the UAE permanent residency 'Golden Visa'.
In a statement issued by the company, the recognition comes as Al Haramain Group celebrates 38 years of its presence in the UAE.
Rahman is involved in a broad range of business and trade ventures around the world – with diversified business interests in perfumery, banking, healthcare, education tea, and hospitality, etc.
His group owns Al Haramain Perfumes, one of the largest fragrance manufacturers in the Middle East region, Al Haramain Tea Co Ltd and Al Haramain Hospital Pvt Ltd.
"I thank His Highness Sheikh Khalifa bin Zayed Al Nahyan, UAE Presdent, His Highness Sheikh Mohammed bin Rashid Al Maktoum, Vice-President and Prime Minister of the UAE and Ruler of Dubai and His Highness Sheikh Mohamed bin Zayed Al Nahyan, Crown Prince of Abu Dhabi and Deputy Supreme Commander of the UAE Armed Forces, for their visionary leadership that makes the UAE a land of opportunities not only for UAE nationals but for nationals of more than 200 countries who call the UAE their home," Rahman said.
"The Golden Visa is an honour for me and my country Bangladesh. This will encourage us to investment more in to the UAE economy and help the UAE economy expand more. We are grateful to the leadership and people of the UAE for allowing us great economic opportunity and honour," he added.
The group owns more than 20 business establishments across the GCC, Bangladesh, Malaysia, the United Kingdom, United States and other countries with more than 100 branches directly employing more than 1,000 professionals and employees.
A seasoned banker, Rahman is is the current Chairman of NRB Bank Ltd – one of the three lenders allocated for Non-Resident Bangladeshis (NRBs).
He was ranked the top Commercially Important Person (CIP) for five consecutive years 2012, 2013, 2014, 2015 and 2016 by the Government of Bangladesh.
From Saudi to UAE tycoon
Hailing from a traditional family in Sylhet, Bangladesh, Mahtabur Rahman was born in 1958 and completed his education in Sylhet city. After that, he joined his family business in Saudi Arabia, which was running well in Makkah since 1970.
Rahman learned the techniques of his family business from his father and mastered himself in the field of fragrance. He had a vision to develop, explore and expand his family business from Makkah to new destinations. As the fragrance business was booming, Mahtabur Rahman opened their first showroom in Dubai in 1981.
After foreseeing the potential Fragrance Markets in the GCC and the Middle East and North Africa region, he moved his entire operation and manufacturing units to the UAE and built the modern and well equipped Head Office fitted with ORACLE-ERP Server in an area of 33,000 square feet and also established a factory in the UAE over an area of around 180,000 square feet, which grew into a state-of-the-art manufacturing unit.
"It was around 1992-93, that I was looking for a piece of land to develop a perfume factory. I was offered the land by His Highness Shaikh Humaid bin Rashid Al Nuaimi, Member of the Supreme Council and Ruler of Ajman, in the new industrial area in Ajman. I found the place empty with nothing but sand.
"We continued to grow our business and it kept multiplying every few years. We have so far invested more than Dh100 million in our factory in Ajman."
In 2011, he founded Bangladesh Business Council in Dubai – the only registered business group for Bangladeshi business community to help strengthen bilateral economic relations between Bangladesh and the UAE. He supports educational and charitable institutions in Bangladesh.