German technology to speed up slaughtering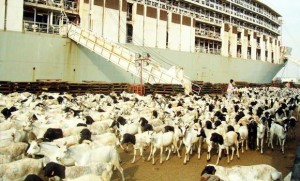 IRFAN MOHAMMED: The Makkah Municipality has introduced German technology at a cost of SR56 million to speed up slaughtering this Eid.
In a statement, the municipality said that 40 animals including camels and cows, would be slaughtered, skinned and packed in an hour.
Two German butchers who embraced Islam are overseeing this new project. Their team members are also from Germany.
The municipality has deployed teams to prevent unauthorized slaughtering in the holy city while the Islamic Development Bank (IDB), which oversees the adahi project, has urged pilgrims to buy its coupons.
The municipality has designated five abattoirs where slaughtering will take, to uphold health and Islamic standards.
The Al-Maisam area close to Mina will handle millions of livestock this Haj. About 7 million animals will be slaughtered in the holy city on Eid Al-Adha. The ministries of Municipal and Rural Affairs, Interior, Health and Agriculture are working together to monitor the slaughtering of animals in the holy city.
Students of King Faisal University's veterinary college are also participating in the project.
Municipal officials are also monitoring livestock coming into the holy city. Makkah Mayor Osama Al-Bar has warned that the government would punish those involved in unauthorized slaughtering.
The mayor said veterinary experts are regularly checking the health of animals and the people involved in slaughtering. A total of 300 security officers would be deployed in the abattoir area in Al-Maisam.
Ahmed Mohammed Ali, IDB's chairman, said in a statement that he visited the Al-Maisam area to inspect the arrangements made for the adahi project. Hundreds of veterinary doctors from various parts of the Islamic world are working on the IDB project in Makkah.