Indonesian family reunited with girl ten years after tsunami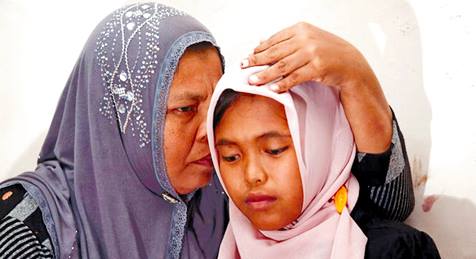 An Indonesian family from Aceh has found their daughter ten years after she was swept away in the 2004 tsunami.
Raudhatul Jannah was given up for dead after tidal waves separated her from her parents when she was just four-years-old, along with her seven-year-old brother Arif Pratama Rangkuti, on December 26, 2004.
"God has given us a miracle," her mother Jamaliah said. "My husband and I are very happy."
The girl was found in June when her brother spotted her in a village as she was walking fome from school, The Guardian reported.
When he asked about her, he found out that she had been swept away to some remote islands south-west of Aceh, where she was later discovered by a local fisherman.
The fisherman then took her back to mainland Indonesia, where his mother was given custody over the girl.
After the proper checks, she was returned home to her family on Wednesday.
"My heart beat so fast when I saw her. I hugged her and she hugged me back and felt so comfortable in my arms," her mother was quoted saying by AFP.
Her family now have renewed hope that her brother also survived after being swept away by the tsunami which killed more than 170,000 people in Aceh.
All together, the disaster killed over 230,000 people in fourteen countries, inundating coastal communities with waves up to 30 meters high triggered by a 9.3 earthquake near Indonesia's Sumatra.