King Salman honors winners of King Faisal Prize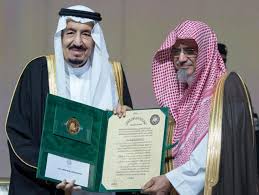 Custodian of the Two Holy Mosques King Salman attended on Wednesday evening the prize distribution ceremony of King Faisal International Prize at Prince Sultan Grand Hall of Al Faisaliah Hotel in Riyadh.
The King honored the winners in the five branches of the Prize with awarding certificates, medals of appreciation and prize money. The King congratulated them for winning the prestigious prize.
On arrival at the venue of the function, the King was received by Prince Khaled Al-Faisal, emir of Makkah and advisor to Custodian of the Two Holy Mosques, Prince Turki Al-Faisal, chairman of the board of King Faisal Center for Research and Islamic Studies, Prince Faisal Bin Bandar, emir of Riyadh, Prince Bandar Bin Saud Bin Khalid, deputy secretary general of King Faisal Foundation, and several other princes and officials.
The function started with the address of Prince Khaled Al-Faisal, who is also chairman of the King Faisal Foundation. In his speech, Prince Khaled highlighted the significance being given by the rulers of Saudi Arabia ever since the period of its founder King Abdulaziz for promoting various branches of knowledge and sciences. "King Abdulaziz had sent teachers and preachers to all parts of the Kingdom in his bid to make knowledge as the foundation stone of this great nation," he pointed out.
Eight distinguished scholars have won the Prize in the categories of service to Islam, Islamic studies, Arabic language and literature, science and medicine. The Prize for Service to Islam was awarded to renowned Saudi scholar Sheikh Saleh Bin Humaid, who is also imam of the Grand Mosque in Makkah and former chairman of the Shoura Council.
Prof. Abdullah Al-Ghunaim, president of the Kuwaiti Studies and Research Center, was the winner of the Prize for Islamic Studies while the Prize for Arabic Language and Literature was awarded to Prof. Mohammed Muftah from Morocco and Prof. Mohammed Abdul Muttalib Mustafa from Egypt.
Professor Han Grrit Brunner and Professor Joris Andre Veltman from the Netherlands shared the Prize for Medicine for clinical application of next generation genetics while the Prize for Science in Biology was shared by Professor Vamsi Krishna Mootha from the US and Professor Stephen Philip Jackson from the UK.