London conference looks into radicalization of Muslim youth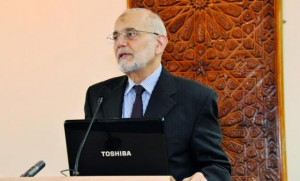 The four-day international conference for a better understanding of Islam and the problems facing Muslim youth kicked off at the Islamic Cultural Centre in London Saturday and will continue in Manchester and Birmingham until Tuesday.
The theme of the program, organized by the Forum for Social Studies, a nonprofit organization based in the UK, is to promote an understanding of the reasons and solutions behind the radicalization of Muslim youth.
It was inaugurated by Jamal Badawi, the keynote speaker, who dealt with the subject and shed light on its reasons. Badawi defined radicalism/extremism, its scope, religious extremism, an Islamic perspective on radicalism and how to de-radicalize society.
He said radicalism and extremism are interlinked. Extremism, he says, is the quality, state or habit of going to extremes either in views or actions. Yet most people associate both radicalism and extremism with religion. Badawi went on to explain that politically inspired radicalism is just as serious and damaging, since fascism as a quality is unrelated to religious ideology.
He said the bottom line is any past practices and juridical interpretations of Islamic literature are not conclusive in themselves and that a proper methodology of interpretation is important.
He stressed the need for balance, as extremism is rejected in the Qur'an and the Sunnah.
Balance is achieved through managing individual, collective social needs, individual freedoms and divinely rooted social ethics. Balance is also contingent upon the rule of law, compassionate implementation, prevention, rehabilitation and de-radicalization.
External partial causes of radicalization, he said, are injustice, discrimination, stereotypes, xenophobia and a generalized disrespect for human dignity. Shabir Ally discussed how violence and extremism run in contravention to prophetic teachings.
Suhaib Hasan explained misconceptions surrounding Islam, especially those pertaining to women, while Idris Tawfiq discussed the road to salvation through Islam.
Tasneem Zaman talked about changing hearts by eradicating poverty, achieving economic development, support, education, charity, employment, counseling and respect in society. Zoran Salahuddin from Serbia spoke about the deplorable conditions of Serbian Muslims. He said there are Muslims but no understanding of Islam and there is need for books and more dawa work.