Madinah hotel blaze kills 15 pilgrims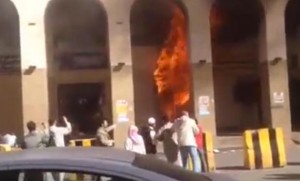 Fifteen pilgrims died and 130 others were injured in a fire that broke out at a hotel in Madinah on Saturday, the Madinah Governorate said in a statement.
The fire occurred at the Ishraq Al-Madina Hotel at 2:33 p.m.
Eyewitnesses said the victims were of different nationalities and included Egyptians and Turks.
Civil Defense firefighters were able to put out the blaze by 5 p.m., the governorate said.
Madinah Gov. Prince Faisal bin Salman has been following up on the incident.
An investigation to ascertain the cause of the fire has been launched, sources said. Preliminary reports indicate that the fire occurred as a result of a short circuit during maintenance work.
Thirty of the injured were treated on the spot, while others were sent to King Fahd Hospital and the Ansar Hospital. According to one report, Ansar received four bodies and 91 injured.
Most pilgrims died of suffocation, the statement said. There were about 700 guests in the hotel at the time the fire broke out. Authorities evacuated guests and closed off streets leading to the hotel on Sitteen Street.
Some pilgrims who were trapped inside the hotel climbed to the roof of the building for safety.
A large number of people had gathered in front of the hotel, obstructing rescue efforts.
Eighteen fire-fighting teams were dispatched to put out the blaze, while the Red Crescent deployed 14 first-aid teams and Madinah's Health Department eight teams.
An Indian pilgrim staying at a nearby building said she saw a huge plume of dark smoke coming out of the hotel as she was returning from the Prophet's Mosque at around 2:45 p.m.
"We saw some people waving through the windows for help. We also saw several firefighters engaged in rescue operations. A large number of people had gathered in front of the hotel. It was a frightening scene," she said.
There were conflicting reports about the number of Egyptian casualties.
Ahmed Zaki, an official at the Egyptian Consulate in Jeddah, said they had received information about the death of four Egyptians. Another report said that as many as 12 of the 15 victims were Egyptians.
Egyptian Ambassador Afifi Abdel-Wahab was quoted as telling an Egyptian television channel that "15 Egyptians died in the fire."
Prince Faisal has ordered hotel guests to be relocated.