Michael Jackson's Sister Janet Accepts Islam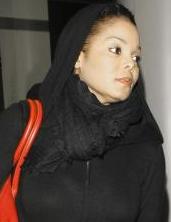 The Michael Jackson's Sister Janet Jackson has accepted Islam as the best religion. A huge number of Non-Muslim women is accepting Islam day by day. Janet Jackson and her fiancé Wissam Al Mana are reportedly planning to get married in Doha, Qatar in 2013.
The couple hope to tie the knot in Doha where the billionaire was born and are making arrangements for the ceremony to take place in 2013.
Janet and Wissam will be wedded in a Muslim ceremony. A renown Turkish author, Adnan Oktar (aka Harun Yahya), is also making the claim that the 46-year-old Janet Jackson has converted to Islam — as did her brother, Michael Jackson — and is choosing to keep her new religion a secret from her fans.