Over a thousand Qawmi Alems to begin govt jobs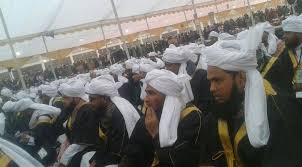 The Islamic Foundation on Sunday issued a statement confirming that more than a thousand Qawmi Alems are set to begin their government job from Monday.
Notably, this group of 1,010 Qawmi Alems will be the first group to get government job since the madrasa system was officially recognised by the Bangladesh government.
"This is the first time so many Qawmi Alems will be joining government jobs at the same time," read the statement.
According to the statement, the Alems will work as teachers under the mosque-based education for children under the supervision of the Islamic Foundation.
The statement also said that the official induction of the Alems will be held at 10am on Monday.
Motiur Rahman, Minister for Religious Affairs, will inaugurate the programme at the Baitul Mukarram Mosque Auditorium.
After the induction, the teachers will undergo three days of training as part of an orientation programme.
Notably, in 2017, Prime Minister Sheikh Hasina announced that the highest certificate offered by Qawmi madrasas would be recognised as equal to a general education postgraduate degree.