Qur'an available in 72 languages at Grand Mosque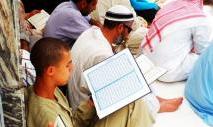 The Kingdom has almost completed elaborate and comprehensive arrangements for Qur'an recitation at Makkah's Grand Mosque ahead of Ramadan. The Qur'an is now available in 72 different foreign languages.
"We have developed a state-of-the-art technology system that any smartphone user with a barcode reader application can use to download the Qur'an software inside the Grand Mosque in the language of choice," Ali Hamid Al Nafji, a senior official at the Presidency of the Grand Mosque Affairs, told Arab News. "The Qur'an, along with commentary and translation, is available for download in most of the world's major languages, including Sinhalese, Telugu, Somali and Chinese," he said.
The number of shelves has been doubled to include more storage space for the holy books."The number of shelves inside the Grand Mosque has been increased to 4,000 shelves containing 950,000 copies of the Qur'an in different languages for worshippers to read," he said.
The six imams appointed to lead the evening taraweeh and pre-dawn tahajjud prayers include Abdulrahman Al-Sudais, Saud Al-Shuraim, Abdullah Al-Johani, Maher Al-Muaiqly, Khaled Al-Ghamdi and Bandar Baleelah.
Al-Sudais will lead the taraweeh prayers on the conclusion of the Qur'an at the end of Ramadan.
Security arrangements are in place to cope with the influx of pilgrims, with 2,000 surveillance cameras installed at strategic points inside the Grand Mosque and the central area in Makkah to monitor crowds, according to police officials.
Makkah Regional Police Chief Maj. Gen. Abdulaziz Al-Asoli said in a press conference that special attention would be paid to crowd management inside the mosque.
Traffic police officials also announced that vehicular movement would be strictly prohibited during Ramadan to facilitate pedestrian movement.