Record numbers of migrants die trying to cross into Europe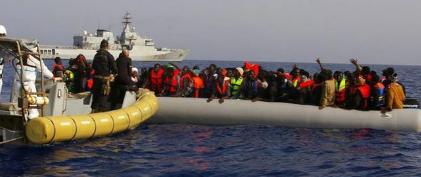 A record 4,077 migrants have died already this year crossing deserts and seas worldwide, three-quarters of them in perilous journeys across the Mediterranean trying to reach Europe, an aid agency said on Monday.
They include an estimated 500 people fleeing Africa and the Middle East feared drowned in a shipwreck off Malta in mid-September after smugglers deliberately rammed their boat, the International Organisation for Migration said.
In its first comprehensive report on such deaths, the IOM said 40,000 migrants worldwide are believed to have perished since 2000, 22,000 of them seeking a better life in Europe.
"Limited opportunities for safe and regular migration drive would-be migrants into the hands of smugglers, feeding an unscrupulous trade that threatens the lives of desperate people," IOM Director-General William Lacy Swing said in a statement. "We need to put an end to this cycle."
A record 3,072 migrants have drowned trying to cross the Mediterranean so far this year, as the "sailing season" draws to an end, against some 2,360 in 2013, according to the IOM report: "Fatal Journeys: Tracking Lives Lost During Migration".
But information is patchy and trends vary regionally, said Frank Laczko, head of IOM's migration research division who led the study launched after 360 mainly Eritrean migrants drowned in a shipwreck last October near the Italian island of Lampedusa.
"What you do see in the last year or so, on the U.S.-Mexico border there has been a decline in the number of deaths, in the border region near Australia there has been a decline, but in the Mediterranean we have seen a massive surge in the number of people dying," Laczko told a news briefing.